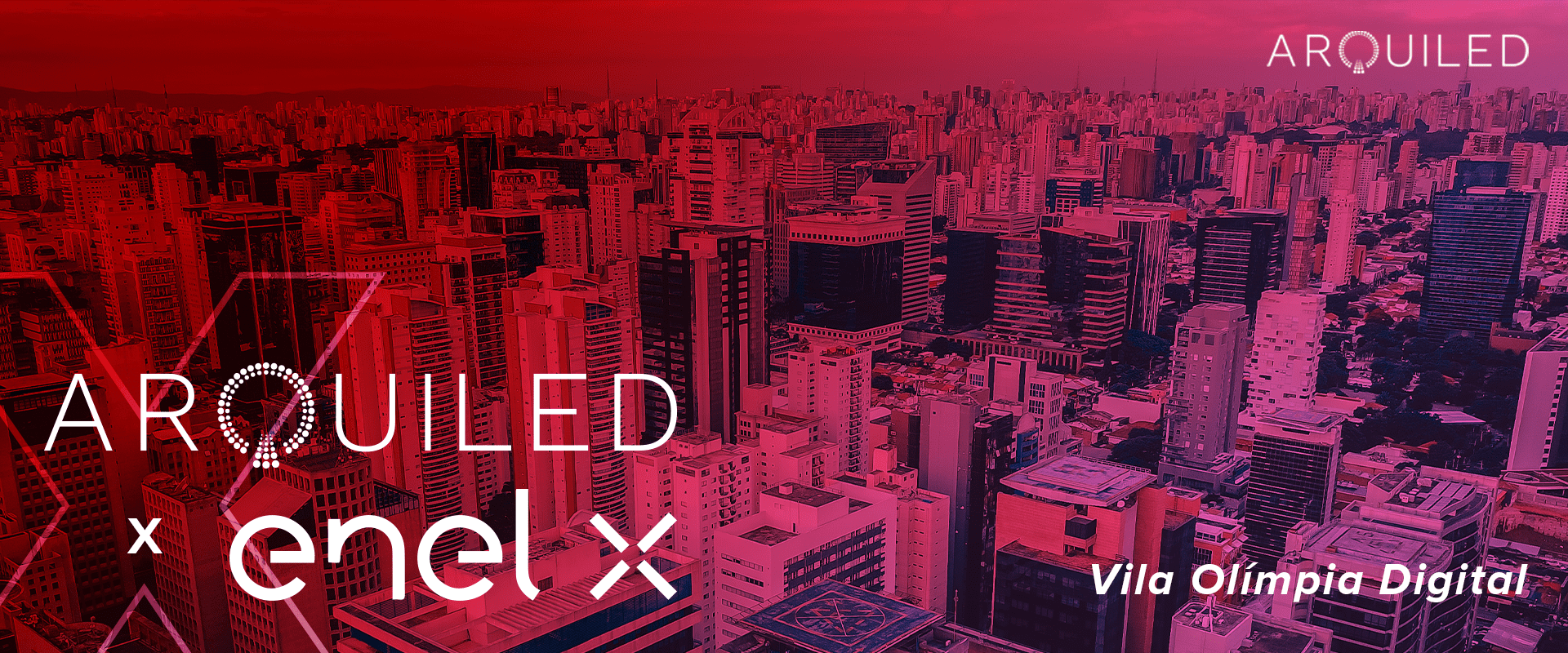 Arquiled partners with Enel X Brazil in the digital transformation project of the electric grid in Vila Olímpia
Urban Futurability project was launched in 2019 and foresees a total investment of around 20 million by the end of 2021.
Forty initiatives of digitization and artificial intelligence, many of them unprecedented in Latin America, promise to transform the electric grid of one of São Paulo's main financial and business centers into a digital, intelligent and sustainable platform that will allow new applications and greater efficiency in the use of energy.
Led by Enel X, the Urban Futurability project involves a set of strategic partners in the areas of electric mobility, public WiFi, video surveillance, smart traffic lights, analytics and street lighting, with Arquiled being selected to supply LED luminaires equipped with a remote management system.
The data collection regarding electric grid conditions will be gathered by approximately 4 900 sensors and a three-dimensional digital replica of the same will be created using the Network Digital Twin® technology. In this way, it will be possible to access and act in real time on the grid to prevent or solve problems and improve the service. Additionally, the mapping of the grid will also generate new opportunities for the municipality, utilities and other companies, as well as for society in general.
Arquiled and Enel X: a common vision of the future cities
Enel X is the global business line of Enel aiming to transform the energy sector through the development of innovative products and digital solutions for the domestic, municipal and industrial markets, towards efficiency gains and increased sustainability.
Its e-City product line provides integrated services for municipalities, namely street lighting, smart city systems and energy efficiency services, in addition to connectivity solutions, such as the wholesale offer of optical fiber services.
Arquiled is a leader in LED street lighting market in Portugal and in recent years has been specializing in smart lighting and solutions for smart cities, having even launched Bright Science, an engineering and development company with the mission to create "new products and technologies applied to the cluster of smart lighting solutions and the infrastructures that support city management."
Enel X and Arquiled agreed to cooperate and establish actions aimed at promoting the development of solutions for smart cities in Brazil. The "Urban Futurability – Vila Olímpia Digital" project is the first in which they collaborate in this regard.